office team
Meet Frank Weterman, Rebecca Hall and Jodi Williamson.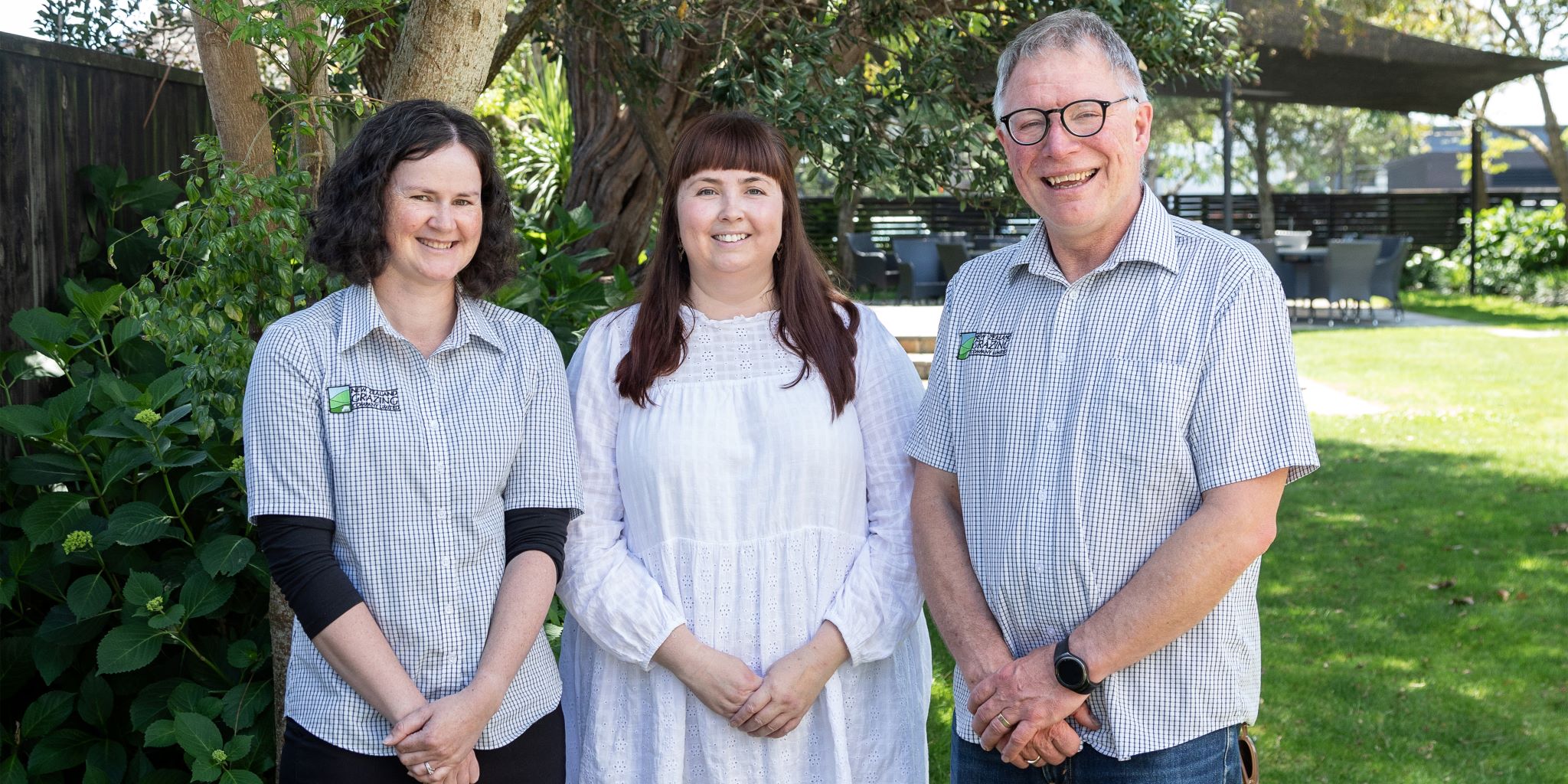 Frank Weterman
Accountant 
I spent my formative years in the Waitomo District, a non farming family amongst a group of farmers. My dad was a chef at the THC Waitomo Hotel, and I enjoyed the freedom of a two classroom country school.
Since then I have enjoyed a varied career: as a chef (including working in Europe); an area manager with a catering company (managing up to 35 staff); and a lecturer (in Management Accounting and Accounting Information Systems). During this time our family (my wife Linda, three daughters and a son) spent a little time on a "hobby farm" raising beef cattle and breeding Wiltshire Sheep.
I have been a Chartered Accountant for over 20 years. This includes 10 years in Public Practice where I completed annual accounts for a number of farming clients. During this time I delivered modules in the Professional Accounting School and continue to be active with Academia at institutions such as the Open Polytechnic. One is never too old to learn.
My life with NZ Grazing began in 2017 and I have been able to incorporate the accumulated skills into the way that the office supports our field staff.
Jodi Williamson
Adminstrator
I grew up on a sheep and beef farm and now live in Kaimata on an 8-acre lifestyle block with husband Aaron and our one-year-old daughter, Ava. We usually rear a handful of beef calves each year and are slowly renovating our house – there's always something that needs doing so that keeps
us busy.
I spent my youth on horseback; competing nationally (once internationally) in Western Riding and have served on the local club committee for several years, with a stint as President as well. I also love dogs and have competed as much as possible in agility events across the North Island. I have had a bit of a hiatus since having our daughter, so I am looking forward to getting back into it as soon as I can. Hopefully Ava will enjoy coming along as well.
If I find myself with any spare time, I love to sit down with a good book or movie and a cold beverage or two.
As the newest member of the team I have enjoyed the variety of work and good hearted banter of all members of the company.
Rebecca Hall 
Senior Adminstrator 
I grew up in New Plymouth where I still currently live. I was never exposed to the farming lifestyle growing up. When I started with NZ Grazing in 2017, I needed to learn from the beginning. The company took me on without knowing what the term "heifer" was (I always thought a cow was just called a cow). Having been with the company for over 6 years I can say my knowledge of farming has vastly improved and I have enjoyed all the learning.
Before my time with NZ Grazing, I studied at Victoria University in Wellington doing a BA in Media and Theatre Studies (specifically in stage management). For now, this is a hobby which I sometimes dabble in. I have been involved in a number of New Plymouth Operatic Society productions.
I prefer the 9 to 5 Monday to Friday lifestyle. In my spare time you can find me hanging with my family or friends, or dabbling in anything creative activities – I enjoy pottery, floral arrangements, cake decorating or just some DIY around the home.
My role at NZ Grazing allows me to develop my artistic side as I become increasingly involved in Social media and web design.