As operations manager for NZ Grazing Company I get to visit our regions and meet a few of our owner and grower clients. In the last week of June I spent a few days in Northland with Ruth and Kevin who are our NZG team in Northland and also got to visit and meet a few of our clients on their farms.
We visited Alyse and Peter Fisher dairy farmers just out of Whangarei. The sun was shining beautifully for our visit for Ruth to give them each a NZ Grazing jacket and to see how much wee 4 month old Aiden had grown.
While chatting with Peter and Alyse we learned of the extent of the crazy weather in the last year for them on their farm.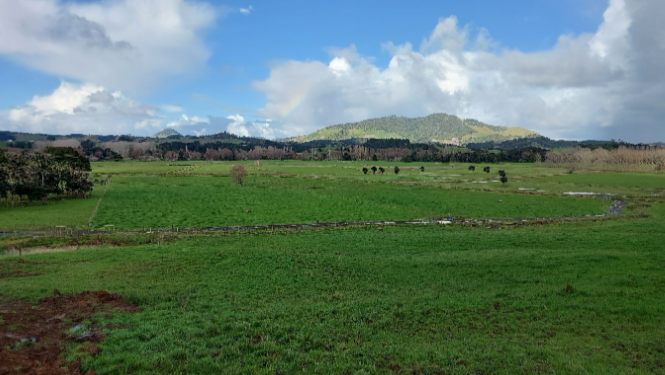 Their dairy farm is predominantly flat and has been under water 6-7 times in the last 12 months and they have re-grassed areas 2-3 times as part of their recovery management. Last year they planted double the amount of maize ground to usual which resulted in the same amount of maize silage as
the previous season.
For the past few/many months I have been very conscious of the climatic challenges that Northland has been facing. I am based in Central Hawkes Bay on a farm so am very aware of how wet we are in HB and how destructive the weather events in Hawkes Bay and Gisborne have been. Most areas in the North Island have been much wetter than normal. One thing that strikes me about Northlands weather is how consistently wet it has been and while the weather hasn't been as singularly destructive at times as other areas have been dealt, it is probably one of the region's that has had the most abnormally high annual rainfall.
See Table 1 below – Historical past weather for Whangarei airport (source: metservice.com)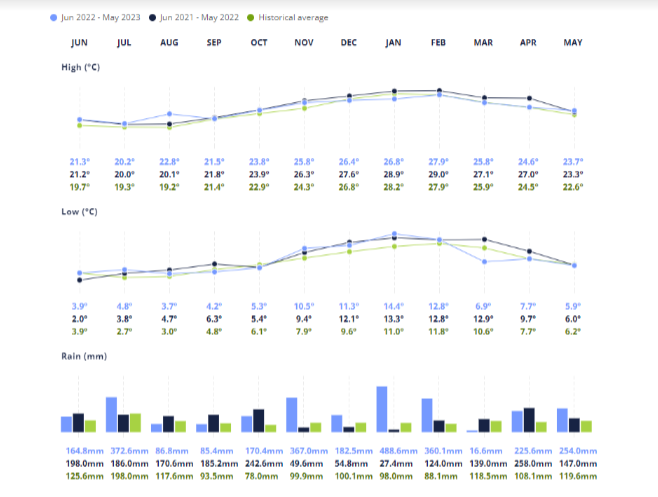 From the table above, totaling the rainfall for the 22-23 year is 2770ml compared to historical averages of 1340ml. If we include rainfall for the recent month of June 23, Whangarei is looking closer to 3 metres of rainfall in the last 12-13 months. While Peter and Alyse are not unique, they are an example of Northland farmers who are trying to farm through extreme wet conditions in an area that is more commonly known for its summer
droughts.
To all farmers presently trapsing through the mud and dreaming of the long drier days of summer, stay strong and keep connected with friends and family even if you don't feel like socializing. Take time to get off the farm and do reach out when you need some support or reach out to others you haven't seen in a while, they may need that connection. We are over the hump (winter solstice) it is going to stop raining!
Bridget Clark
Operations Manager, NZ Grazing Company