Broad Skill Set Required for Service Manager Role
Profile of Paul Rushbrooke by Barry Easton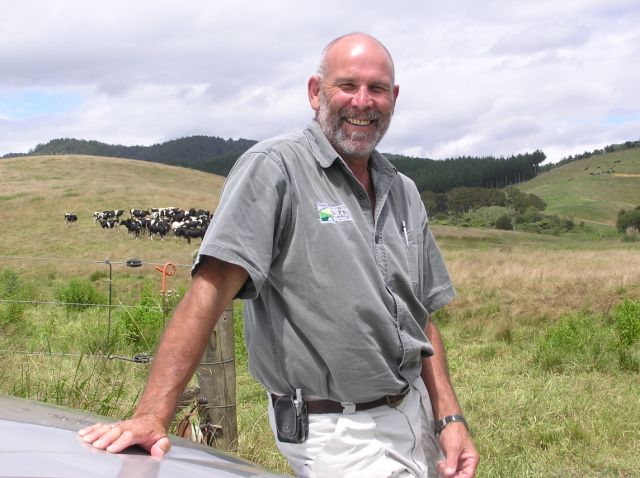 In the cattle grazing business, it's hard to argue with a set of scales!
In the final analysis, it's a set of Trutest scales which arbitrates on any difference of opinion between the expectations of a dairy farmer and the farming skills of the grazier.
And the man in the middle of any difference of opinion which might arise, is the service manager for the company which lays down the rules – the New Zealand Grazing Company.
Hamilton-based Paul Rushbrooke is the most senior of the New Zealand Grazing Company's four sales and service managers. A key part of his job is in monitoring the performance of graziers to prevent conflict situations arising, but inevitably, climatic conditions leading to unexpected feed pinches, does result in the occasional "showdown."
"At the end of the day you are dealing with someone else's asset – in the case of a sharemilker, their main asset," says Paul.
"Because it is someone else's stock and not the grazier's stock, the grazier has to realise his responsibility.
"As a last resort, we may have to take stock off a property, but with graziers, you try to work things through so you don't get to that point. I prefer to sit down with a grazier and work out the feed requirements for a line of stock. We determine what they are being fed in a day against what they should be getting, in order to show where the deficit is."
But those occasions, says Paul, are few and far between, at least in part, he says, because the company takes great care in the selection of its graziers.
Like most who are appointed sales and service managers for the New Zealand Grazing Company, Paul Rushbrooke was a farmer in his own right, before spending a 10 year stint with his own motorcycle retail business.
"Then an advertisement appeared in the paper for a sales and service manager for New Zealand Grazing. I thought, I know that, and applied!" he recalls.
That was in 2000, and Paul was placed under the tutelage of Jim Robertson, who had been regional manager for the company virtually since its inception.
"I got thrown in almost at the deep end, and learned as I went along. Jim was there to walk me through everything though. He was always available and on hand to talk to if something went wrong."
As the senior sales and service manager, Paul is responsible for training his team members. Along with the company's managing director, Ian Wickham, he will in future be responsible for the appointment of sales and service managers.
"In the past, Ian has done this, but I will probably be involved in any future appointments, because whoever gets the job will be someone whom we both have to work with. Added to this, I will have to train them," he says.
The job, says Paul, is a demanding one, which sounds simple enough, but requires some specialised skills.
These are briefly cited as an ability to handle and assess stock, an ability to communicate with graziers, dairy farmers and other members of the team, an ability to sell, and an ability to be tough when the occasion requires it!
"You would think that there are plenty of people around with these abilities, but there are not," says Paul.
"It is important to have those stock-handling skills and to know your stock, because you have to be able to go on to a farm, look at the stock, and if there is something which is not quite right, you have to be able to pick it up. It's something you can't teach anyone. They either have this skill, or they haven't.
Communication skills are important, and at times you have to be able to be tough with people. If things are not going right with the grazier, for example, you have to be able to sit down with that person and point out that there are certain criteria which they have to meet.
And it's no good having all these skills if you can't sell – if you can't persuade a dairy farmer to place their stock with you. Primarily, the dairy farmer is where the service starts, because if you don't get the dairy farmer, then you don't need a grazier. Picking up that dairy farmer is really selling yourself. The company is there with guaranteed criteria and so on, but the dairy farmer is not going to place their stock with someone they are not happy with and have no rapport with."
Despite the demands of the job, including the necessity to walk a tightrope between the dairy farmer and the grazier on occasion, Paul Rushbrooke makes no secret of the fact that he enjoys his work. It's more, he says, than just a job, and he is proud to be part of a company which has established a benchmark for the cattle grazing industry as a whole.
"The company has driven big changes in the grazing industry," he says.
"A lot of graziers have picked up from those standards and then run off and done their own thing. However, none of this would have happened if it hadn't been for the company."
Paul Rushbrooke
Supplying between 200-250 Jersey bulls annually to mate with heifers on the farms of graziers is a complex but largely unheralded aspect of the New Zealand Grazing Company's service programme.
Paul Rushbrooke is the man in charge of what he says is a service which struggles to pay its way.
"By the time we buy a bull for $500-$600, graze it for six to seven months, pay the transport to and from the grazier, then kill it for a return of $600-$700," we are not making much money on the exercise" he says.
"The bulls usually go out to the graziers' farms within five to seven days of mating. Most of our mating starts October 1, with a few lines starting September 23 and 24. In the Waikato and Northland it continues until October 16, although we have the odd line which extends until November 1. Most of the bulls come out at the end of December."
Ninety seven percent of the dairy heifers are mated as opposed to artificially inseminated, and because farmers don't retain the calves, BW and PW are irrelevant in the selection of bulls, says Paul Rushbrooke.
Because of ease of calving, Jersey bulls are used in preference to any other breed.
"One thing which we have done this last mating, is to test all of our bulls for BVD (Bovine Viral Diarrhoea) to see whether they are PI animals or not. Once the tests results were back, all those bulls which were passed were vaccinated for BVD, and this is a first for the industry."