Piripiri Graziers Sold on Strategic Use of Copra Supplement.
by Barry Easton.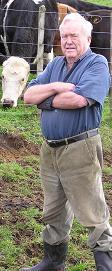 After a tough year for their cattle grazing operation, the White family, who farm in the South Waikato district of Piripiri, have turned to the tropics for inspiration. The solution for overcoming a serious feed pinch in a mild, but unusually wet winter, was provided by the ubiquitous coconut. With a metabolisable energy value of 13, copra, the dried oil-yielding kernel of the coconut, has provided the solution. Supplied in pellet form, mixed with silage, and fed to their 590 dairy heifers twice daily, the weight gains have been consistent. They were so pleased with the results last season that for the current winter Copra is part of the planned feeding formula. Taylor White, nearing 79 years, has lived in the Piripiri area all of his life, and bought the property, which he farms with two of his sons, Jeffrey and Stanley, in 1961. In total, there are 294.33 hectares of undulating country, with 222 hectares of that in grass. The balance is made up of stands of native bush, steep gullies, and swamp. Twenty seven kilometres west of one of New Zealand's most popular tourist spots, the Waitomo Caves, the White property is located on Caves Te Anga Road, 45 kilometres from Otorohanga, and 50 kilometres from Te Kuiti.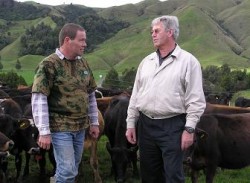 Accountant advised grazing dairy heifers.
Up until the late 1990's, sheep was the main source of income for the White family, but economics, according to their accountant, suggested that it was time for a change!
"A time came when there was very little money in sheep. Our accountant advised us to try grazing dairy heifers," explained Taylor. "For a start, we took on grazing cattle for private clients, and then five years ago, we began grazing dairy heifers for the New Zealand Grazing Company."
"We still have a few private clients, but around 500 of our 590 dairy heifers have been supplied to us by the New Zealand Grazing Company.
"It is easy to have an argument with a private client, but with New Zealand Grazing, every issue is there in the contract – it's all covered and nothing can backfire on you!
Also, money-wise we are better off, and I suppose that that's the bottom line."
For the last two seasons, the Whites have dealt with Bruce McKee – New Zealand Grazing Company's sales and service manager for the Waikato-King Country region. It is a close relationship based on mutual trust and respect, with progress being monitored by monthly weigh-ins. These are conducted in two drafts, a week apart, to allow for ease of stock movements around the farm.
"We get to see how well we are performing – most owners like their heifers to carry as much condition as possible before calving," says Taylor.
"Actually, I think that we might have been carrying just a few too many stock earlier this year, and that's when Bruce put us on to copra. It is trucked to our property from AgVision Ltd at around 11 tonne a time, and we just bag it up and feed it out to the heifers with the silage. The stock love it, and start bellowing the moment they hear the tractor."
Copra feeding rate.
"We feed it at the rate of two kilograms, per animal, per day, and it costs about half the price of other supplements." Copra hasn't been the only supplement which Taylor White and his sons have developed a fondness for. Bruce McKee's wife, Marlene, has visited their farm with her husband on the odd occasion, armed with a home-baked fruit cake for afternoon tea. Those visits are more than warmly welcomed by the three bachelors – they are positively encouraged! "Mind you, I shouldn't really eat fruit cake because I have diabetes," quipped Taylor. "Well if you don't, there are two others who will eat anything which you leave," countered Jeffrey.