Impressive Attitude of Young Graziers Starting Out on New Farm.
by Barry Easton.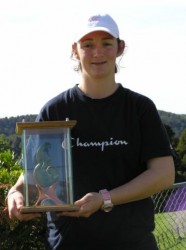 If attitude counts for anything, then James and Lisa Fagan are destined for a very successful farming career. Their attributes include a "can do" approach, sound basic farming skills, and a willingness to listen to good practical advice. It doesn't hurt, either, that much of this comes from James' father, John Fagan, a top King Country farmer not to mention champion shearer and fencer. James and Lisa recently purchased a 247 hectare property at Mapiu, on State Highway 4, 40 kilometres north of Taumarunui. While there are a few steeper paddocks which are suitable only for grazing sheep, much of the farm is easy rolling to flat, and is ideal cattle country. The Fagans took ownership of their farm in the middle of the current winter – not the ideal time, says Lisa, to begin sourcing dairy heifers.
Sourcing Dairy Heifers
Enter the New Zealand Grazing Company, with a new Taranaki-based client who was seeking grazing for 129 dairy heifers.
That client was initially cautious when it was first suggested that he might like to place his stock at Mapiu, with James and Lisa. However, any doubts about risking heifers with young farmers who were setting out on a new farm were quickly dispelled when he travelled to Mapiu to view the farm and meet the couple. Impressed with their knowledge and attitude, the client returned to Taranaki a much happier man!
For James and Lisa, grazing heifers made sound economic sense. It saved them the capital outlay required to buy their own stock in addition to providing them with good cash flow in the form of a monthly cheque.
"Most of the grazing contracts are from May to May, and New Zealand Grazing worked very hard for us to secure stock," says Lisa.
"The heifers were pretty flighty when we first got them, and it has taken a little while for them to settle down. However, they are on a good rotation now, are shifted daily, and are starting to settle into our way of doing things."
"My father-in-law (John Fagan) has advised me to call them and talk to them every time that I go into the paddock. They will get used to me, and hopefully, in the long run, I shouldn't even need dogs to move them!"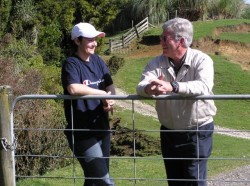 Mentors
"My father-in-law (John Fagan) has advised me to call them and talk to them every time that I go into the paddock. They will get used to me, and hopefully, in the long run, I shouldn't even need dogs to move them! "John is a very driven man who has certainly provided us with a great deal of advice over the years, and I would say we will get the benefit of a lot more of it in the years to come. He has definitely been a big help to us in getting where we are. "I have also developed a very good working relationship with Bruce McKee, New Zealand Grazing Company's sales and service manager for the Waikato/King country area." "Bruce and I have got to become pretty good mates over the last month or two, and any advice which he has to offer is always taken on board." Because James will be away shearing for two to three months of the year, Lisa will be required to run the property by herself in his absence. She is unfazed by the prospect, and while she will have her father-in-law to call on for advice, she is doing everything she can to improve both her practical and academic farming skills. This extends to studying for a Diploma in Agri-business management. "I like to learn the ins and outs of things," she says. "If I am doing something, I like to know that I am doing it properly. I was listening recently to Teresa Gatting, the CEO of Telecom who suggested that if you didn't have the knowledge yourself, then you should surround yourself by people who do. That way, she said, you will always be successful."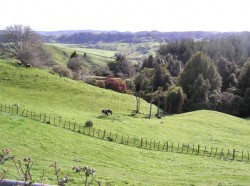 FAGAN
If Royalty exists within the world of shearing, then no family would have a greater claim to the crown than the Fagan's.
James' father, John, was the Golden Shears open champion in 1984, and his uncle, David, has won no fewer than 12 Golden Shears open championships, and has five times been world champion.
James (28) is currently New Zealand's fifth-ranked open shearer.
It hardly surprises, then, that he met Lisa, a one-time city girl, at a shearing competition in Raglan. Lisa was competing in her first wool-handling competition. She has gone a long way since, and today is New Zealand's top ranked open wool handler.