Identifying and Solving Environmental Challenges – Gwyn Morgan
by Barry Easton.
Sustainability and accountability are key issues in agriculture which must be faced by farmers and regional councils alike, claims environmental guru, Gwyn Morgan.
Mr Morgan, who joined Dexcel on May 7, holds a Bachelor of Social Sciences with a double major in geography and water physics from Waikato University, plus a post graduate degree in environmental technology from Waikato University. He also holds a masters degree in environmental management from Auckland University.
In his new role with Dexcel, Mr Morgan will be working with dairy farmers, regional councils and industry to identify on-farm environmental challenges specific to each region and develop practical solutions that work on farm His work is part of the activity being carried out by Dexcel to implement the Dairy Industry Strategy For Sustainable Environmental Management, which embraces the core values of the Fonterra Dairying, Clean Streams Accord and Federated Farmers "10 in 10."
Action Teams
Mr Morgan will be working with 10 regional "dairy action teams" located in New Zealand's 10 largest dairying regions. These teams will be chaired by farmers to ensure that they are the ones who drive the activities implemented to address environmental issues.
 "The action teams started in 2002/03, but we're now extending the initiative into more regions, encouraging farmers to take the lead, and introducing a consistent way of setting targets and measuring progress," explains Mr Morgan.
 "These teams are essentially groups of farmers whose role it is to involve other key stakeholders such as rural professionals and regional councils in determining what activities we need to implement on-farm in order to meet industry and environmental targets.
 "Farmers in each region face different environmental issues, so it's crucial we use farmers' knowledge and experiences to tell us what the problems are and how best to resolve them while improving farm profitability.
Practical Ways
 "Farmers are consulted when developing the most practical ways to formulate solutions which will benefit both the environment and dairying, rather than having 
impractical rules and regulations imposed on them which could potentially make dairy farming unprofitable. A big part of this is understanding the science behind the issues. There is no point in setting targets which can't be achieved or which farmers might struggle to achieve."
In Southland, for example, says Mr Morgan, farming has intensified so the challenge for the industry is to look at solutions which can be put in place to maximise the use of water and to manage nutrients more effectively.
"In the Waikato the number of proposed dairy conversions has increased," he says.
 "It's important that we continue to work with Environment Waikato to develop solutions that promote the growth of such an important industry to the region, while addressing issues around water allocation and protecting water quality. Great progress has already been made in these areas, particularly in catchments such as Toenepi, near Morrinsville."
A decade from now, in terms of inputs and outputs, it is likely that farmers will be required to keep more records, claims Mr Morgan. There will demand, he says, for greater accuracy.
Nutrient Budgets
 "Some of the proposed regional plans require farmers to submit nutrient budgets. Dairy farmers are already taking steps to make changes. Recent figures from fertiliser companies show that about 97% of dairy farmers now have a nutrient budget which works as a tool to assist in deciding fertiliser requirements and how best to manage effluent.
 "The challenge now is to help farmers use these budgets to develop nutrient management plans and make changes to their on-farm practices.
 "The key issues are sustainability and accountability. We must take responsibility for looking after the environment, but it has to be done in a way that doesn't compromise the viability of one of our country's most important industries. Dairying is New Zealand's bread and butter!
 "Farmers, local government, scientists and the industry must continue to work together to find solutions. Only then can we achieve sustainable and profitable dairying while looking after the environment for future generations."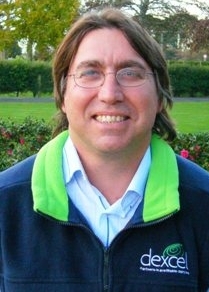 Farmer/Scientist feels at home in gumboots.
Raised on a dairy farm, Gwyn Morgan considers himself a farmer first, and a scientist second. 
"I have always had my feet in gumboots. I just added the science along the way," he quips.
With partner, Tracey, he currently has 140 dairy cows, which are leased to farmers. The couple buy in an annual intake of weaners – 30 this year – which are grazed by the New Zealand Grazing Company and will be returned in as in-calf heifers.