Different Strengths Build a Strong Team
By Barry Easton
Issue 2 – 2006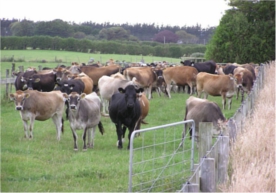 In farming as in other codes, sound basic knowledge coupled with practical experience makes for a formidable combination!
Certainly it's a formula which works for Dougal Wickham, who while having spent three and a half years with New Zealand Grazing Company Ltd (a company founded by his father, Ian, in 1987), has been only a year in the field as a sales and service manager.
With a university background in computer science, Dougal was previously based in the company's New Plymouth office as the systems manager. It gave him an excellent insight into the overall operations of the company.
Geographically, the Taranaki-Manawatu region is the largest of the four North Island regions serviced by New Zealand Grazing. Arguably, it also features the widest range of soil types and climatic conditions.
But none of this fazes the newboy on the block – he has got some very experienced graziers on his patch, and he is keen to learn from them.

Experienced Grazier
Doris Elmslie, who grazes, on average, 300 heifers annually for New Zealand Grazing on her 81 hectare farm near Waverley, is a prime example. She and her late husband had been graziers with the company since its inception, and when her husband died in 2001, Doris farmed on in her own right.
It's a sort of symbiotic relationship, where on the one hand Dougal is able to monitor the weights of the heifers, and offer sound advice, while at the same time drawing on the practical expertise of Doris in getting stock to their desired targets.
"It's definitely a big change from what I was doing (in the office)," says Dougal.
"At the same time it's been good to get out and meet some of the people who are out in the field. There has been quite a steep learning process, but I have been picking things up as I have gone along.
"I have to keep in close contact with my graziers in order to keep abreast of what is happening. With the wide variation of soil types and climatic conditions in the Taranaki-Manawatu area, I have to rely on them to have specialist knowledge of the conditions in their particular areas. It is also important that I have an understanding of how they might cope with a range of issues should they arise."
Doris has a similar view of the working relationship:
"Dougal has to assume that I know what my pasture requires – that my management of the property is going to be correct. Anything to do with the stock, however, and I have to talk to Dougal. He, in turn, can talk to the owners."
No Joke
Very much an independent thinker, Doris is firmly of the view that women farmers, generally speaking, are still considered a joke by the wider farming fraternity. She has her own way of doing things, and certainly raised a few eyebrows a few years back when she switched to using liquid fertiliser across the whole farm.
"That was one of the first things I did after my husband died," she recalls.
"Then one year we had a particularly dry summer, and while everyone else's pastures went brown, my farm stayed green. That made a few people take notice!
"I'm well grounded in the fields of horticulture and science, and I like farming naturally. Every paddock is harrowed, and one of the great benefits of using liquid fertiliser, is that you develop a tremendous worm population.
High Olsen P
"I have regular soil tests, and the Olsen p level is pretty high. The entire farm is sprayed twice a year, and in the autumn, trace elements are also added."
Doris's 81 hectares are flat to rolling, and is free-draining. Up to 350 bales of baleage plus hay need to be harvested to offset dry spells. When pastures brown off, feeding out can take place as early as January.
The fact that several farmers entrust their stock to Doris's care year after year, serve as testimony to her stockmanship.
She also takes in Jersey heifers, which are not the preferred choice of some graziers!
"I like Jerseys. If they get new grass every day, or baleage every day, then they're fine. You just have to be on the spot. They are also quieter and easier to handle than a great big Friesian!"